Are you constantly struggling to lose weight but can't sustain the motivation to reach your goals? We can help you lose weight and get paid to do it! If you're confident that you can beat the scale with the right help, then HealthyWage is where you can make a (healthy) wager on your ability to stick to your plan and win money. Here is a review of HealthyWage that might introduce you to the Kryptonite killer you have been looking for. Yes!!! Shed pounds and Win Money.
(Eve Pacific Health website provides guides, product reviews, and tips to lose weight. You can read my blogs about weight loss to lose weight.)
What is HealthyWage?
HealthyWage is a for-profit wellness company that helps people lose weight and get fit by giving them cash prizes for shedding pounds by betting. It was founded in New York City in 2009 by former healthcare consultant David Roddenberry and his colleague Jimmy Fleming. 
This company pushes public discussion on health incentive issues. It launches programs that use cash prizes, financial commitment, social motivation, and positive peer pressure to get people to lose weight and fit at corporate and consumer levels.
Here is an awesome HealthyWage video:
The HealthyWager program allows you to "bet" on your weight loss. It is a favorable bet. You can use the HealthyWager prize calculator to determine what cash HealthyWage will pay. 
The award is based on how much you are willing to "wager," how much weight you want to lose, and how much time you need to achieve that goal. You win the prize if you reach your goal in the agreed timeframe.
If you are 40+ and still want to lose weight, read my article Best Workouts for Men over 40 to achieve the goal. I have compiled the best workouts for men over 40. 
How Does HealthyWage Work? 
HealthyWage is easy to use. Here are some steps to guide you.
Calculate Your Prize
Set Your Weight Loss Goal and Timeline
Make Your Bet
Verify Your Starting Weight
Lose the Weight 
Verify Your Results
FINALLY, Win your prize
Prize Calculator of HealthyWage
You can use HealthyWage's free Prize Calculator to pick your weight loss goal and see how much you can win. The minimum weight loss goal must be at least 10% of your body weight. For example, if you are a person with 300 pounds, you would have to lose at least 30 pounds in your targeted goal.
Your Goal and Prize 
Your goal will include how many pounds you want to lose and the time frame (in months) you will lose them. You have to set an amount that you want to bet per month. As you adjust all variables, you will notice the prize range goes up and down based on your input. 
There's no commitment yet, so you can play around with the calculator until you are comfortable with weight loss commitment and prize range. 
Enter Your Stats
After you've finished setting your goal, you enter specific data about yourself, including:
Gender
Height
Current Weight (No cheating because it will be verified later — no padding the scale!)
Waist Size
See Your Prize Amount
HealthyWage uses an algorithm to calculate prizes so that prizes might differ for 2 people entering similar information. Numbers might look different, but there's the motivation factor of NOT losing it. Shed Pounds, Lose Money! You must enter an email address and create a password to see your prize amount based on your entered data. 
If you enter a weight loss goal of 30 pounds in 9 months with a $50 bet monthly to test this out, your prize will be $500, or an 11% return on your "investment." Your award is set during this initial setup of your challenge, up to $10,000. The next steps are:
Make your bet
Verify your weight
Shed pounds and get the prize
Make Your Bet
Losing body weight can be challenging and frequently demands patience, hard work, and focus. Enter your credit card information to set the bet. You can pay all your bets at once or make monthly payments. 
Please read my article Best Home Gym Equipment for Weight Loss to help you lose weight at home.
Verify Your Weight
What can stop people from entering an inflated "starting weight" and getting cash when the pounds miraculously melt away? HealthyWage requires users to verify their initial weight before the challenge starts. You can do this in two ways:
Download the HealthyWage mobile app (iOS | Android) and have one of their referees remotely witness your weigh-in.
Make a short weigh-in video and upload it securely to the HealthyWage website.
There are no other weigh-ins during the process. HealthyWage neither tracks your progress nor includes a way for you to track progress through their website or app. All you need is a smartphone and a scale. 
3. Shed Pound and Get the Prize
Your HealthyWage challenge ends on the date set for it to be over. Make sure you meet your weight loss goal in the time frame you set up. As I said before, your weight will be checked after the challenge. If you reach your goal, you will get a reward. This is how it works: If not, you lose the money you bet.
Some Other Ways to Make Money with HealthyWage
HealthyWage offers people alternative options to win money besides their HealthyWager Individual Weight Loss Bet. It is a chance to double or triple-dip your earning power for the same weight loss. This is accomplished through a variety of individual and group challenges. You can participate in up to 10 challenges simultaneously.
1. Jackpot Challenges
You can also win money with the jackpot challenge. If you want to do a Jackpot challenge on your own or with a group, your money goes into a pot. If you lose 6% of your body weight during the challenge, in the end, you win the jackpot.
2. Refer Your Friends
The more accountability and friends you have, the easier it will be to make changes in your life. For every friend you refer who signs up for a HealthyWager, you and your friend will each get a $40 prize boost. So if you can find five friends to join you, $200 could be added to your prize.
3. Step Challenge
If you want to participate in a step challenge, you need to connect your step challenge. You can compete individually or as part of a team to meet specific step goals and get a share of the pot.
4. $10,000 Team Challenge
Teams of five compete to lose the most weight to win cash prizes. The top winner gets $10,000.
The Science Behind HealthyWage
According to academic research, Cash rewards can increase the effectiveness of weight loss programs. People are more likely to take action when there are some chances to win cash, or their own money is at risk.
According to a study published in the Journal of the American Medical Association, people who have a financial incentive to lose weight are 5x likely to reach their weight loss goals than people with no money at stake. In the last year, HealthyWage participants combined to drop over 850,000 pounds!
HealthyWage Success Stories
The amount of money you win depends on many things, including how much weight you want to lose in how much time. You can only get your prize if you meet your goal by the end of your weight loss competition. The average reward for completing a goal is $1,331. Weight loss is challenging, so you have to make an effort. Here are some success stories to motivate you.
KRISTIN W. LOST 114.0 LBS AND WON $4,000!
Image courtesy by HealthyWage
VALERIE A. LOST 45.0 LBS AND WON $1,000!
Image courtesy by HealthyWage
DARCHELLE W. LOST 44.0 LBS, WON $2,000!
DANIELLE S. LOST 128.0 LBS AND WON $1,323!
ANASTASIA W. LOST 41.0 LBS AND WON $10,000!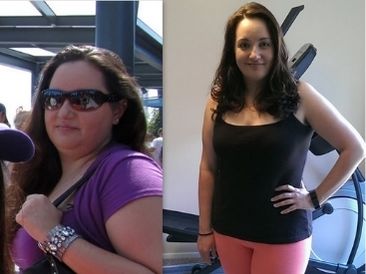 BLAKE S. LOST 151.0 LBS AND WON $4,670!
GLENN S. LOST 102.0 LBS AND WON $1,383!
JENNIFER D. LOST 102.0 LBS AND WON $4,181!
TERESA S. LOST 69.0 LBS AND WON $2,415!
How to Get Paid by HealthyWage?
When you win a challenge, you will get HW points worth one dollar. This will happen by the evening of the day your prize is announced. You can do a few things with your HW points:
You can request a payout.
You can also use HW Points to join a new challenge.
You also have the option to use HW Points to pay installments on a current challenge.
Final thoughts
If you want to lose weight and win money, HealthyWage and Eve Pacific Health are here to help you. When you set a goal to lose weight and a time window for achieving it, you put money down to ensure the scale matches your goals. If you achieve your goal, you'll have two things to celebrate :
Your svelte new self
A hefty prize check cut by HealthyWage
Your prize depends on how much weight you lose, how quickly you can do it, and how much you bet. Suppose you want to combine monetary incentives with the power of teamwork. In that case, HealthyWage offers team challenges with your officemates or a group set up by the site if your company's not on board. 
Important note: The earning potential for the team challenges is pretty serious: you pay $25 per month for three months to participate, and you could win up to $10,000.
Eve Pacific Health helps you lose weight by suggesting many weight-loss exercises, product reviews, informational articles, and guides.