The PRx Performance Fold-In ONE Squat Rack is an excellent value and compact high-end squat rack that combines an efficient, cost-effective setup with long-lasting stability. It features 3×3 uprights and a vertical folding mechanism; the entire rig can be folded/unfolded easily. It includes larger accessory holes, 11-gauge steel, and the aforementioned laser-cut numbers.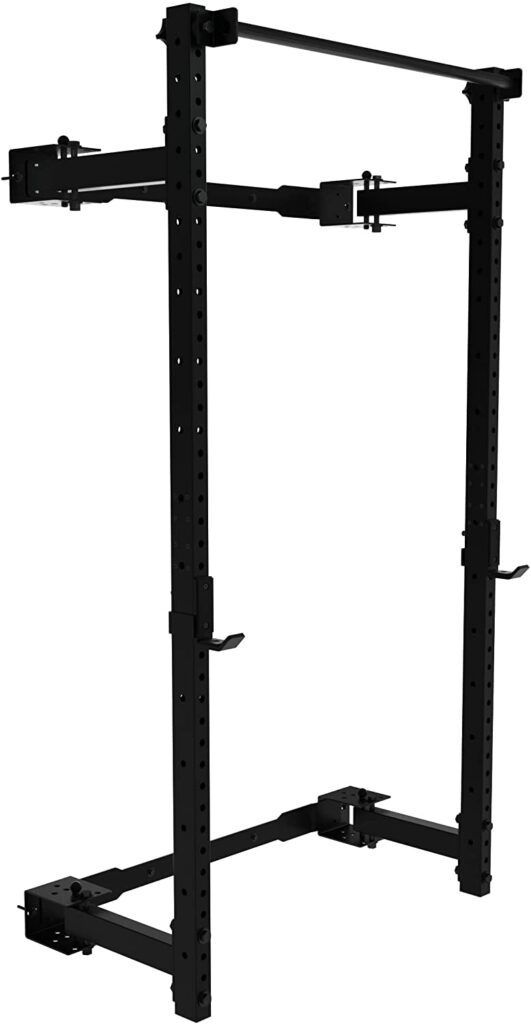 | | |
| --- | --- |
| Dimensions | 27.5 " x 49 " (W) x 90 " (H) |
| Steel Notes | 2×3″ 11-gauge steel |
| Product Weight          |  123 lbs. |
| Price | $599.00 |
| My Rating |  9.5/10 |
Check out this video "PRx Performance Murphy Rack Fold In – How it Functions":
An Overview of PRx Performance Fold-In ONE Squat Rack
Squat Rack from PRx Performance is the most durable and convenient high-end squat rack. The fold-in design is secured with four pins, and the included pull-up bar can be adjusted to your desired height. It is an excellent choice for converting your garage or spare room into a home gym while taking up minimal space by folding the rack against the wall. The uprights are constructed of heavy-duty steel with 10mm J-Cups, allowing this rack to support a maximum weight of 1000 pounds.
Features
PRx rack gets excellent reviews and is a cost-efficient squat rack. It's a sturdy, long-lasting, and reasonably priced squat rack that delivers a great workout.
Kipping Bar
The 42-inch kipping bar creates a 3-foot space between you and the wall. It allows you to perform all of the CrossFit classics, such as kipping pull-ups, toes to bar, butterfly pull-ups, and even muscle-ups. The rack is constructed entirely of 2′′x 3′′ 11-gauge solid steel columns. Columns measuring 2″ x 3″ are quite sturdy. Moreover, the kipping bar is made of solid steel, ensuring the system's durability.
Pair of J-cups 
J-cups are the brackets used to secure the barbell. They are 2′′x3′′ in size to fit the columns properly. 
Heavy-duty Plastic Feet
The thick plastic plugs at the base of the columns protect the floor while also providing a stable foundation for the columns to rest on.
5/8″ Hardware
The installation kit includes all necessary bolts and hardware. These 5/8-inch-diameter (0.625-inch-diameter) bolts are strong enough to withstand a lifetime.
Adjustable Pull-Up Bar
Each end of the Fold-In ONE pull-up bar is secured with a hand tightening screw for quick installation. The pull-up bar can be mounted through any hole on the uprights for optimum height flexibility.
Read this article next: Best Folding Squat Rack: 3 Options for Your Home Gym
Brand Information
PRx Performance is a well-known manufacturer and distributor of fitness equipment based in Fargo, North Dakota, United States of America. It offers significant quality, low-maintenance exercise equipment that can assist you in reaching and maintaining your fitness goals.
Benefits and Drawbacks PRx Performance Fold-In ONE Squat Rack
Benefits
Affordable
The PRx Performance Fold-In ONE Squat Rack is a less expensive alternative to most squat racks. It's an exceptional value if you're willing to workouts efficiently and install it yourself.
More space
The rack may be folded up and hung on the wall to save floor space. When folded in, it takes up very little space. Using just a few square feet of wall space, it's ideal for creating a home gym in a spare room or garage.
Easy to Install
It is intended to make installation as simple as possible. It attaches to your wall studs at 16 or 24 inches in the center.
Drawbacks
Less Weight Capacity
It is only capable of supporting up to 505 pounds. If the stinger was larger and could accept more bolts, it could support more weight.
Conclusion
The PRx Performance Fold-In ONE Squat Rack is the cheapest squat rack available. It's an incredibly simple, space-saving, and cost-effective squat rack that delivers the most functionality of a traditional squat stand with a pull-up bar. It's the greatest exercise equipment you can have at home or anywhere else because it provides an optimal workout that will help you achieve your fitness goals.