The Rogue RML-90 Slim Rack is an excellent compact and affordable squat rack that combines a convenient, efficient setup with the durable stability of two Monster Lite uprights mounted on the wall. The features include UHMW plastic feet to protect the floor, two Monster Lite J-cups, texture black finish, and Westside hole spacing.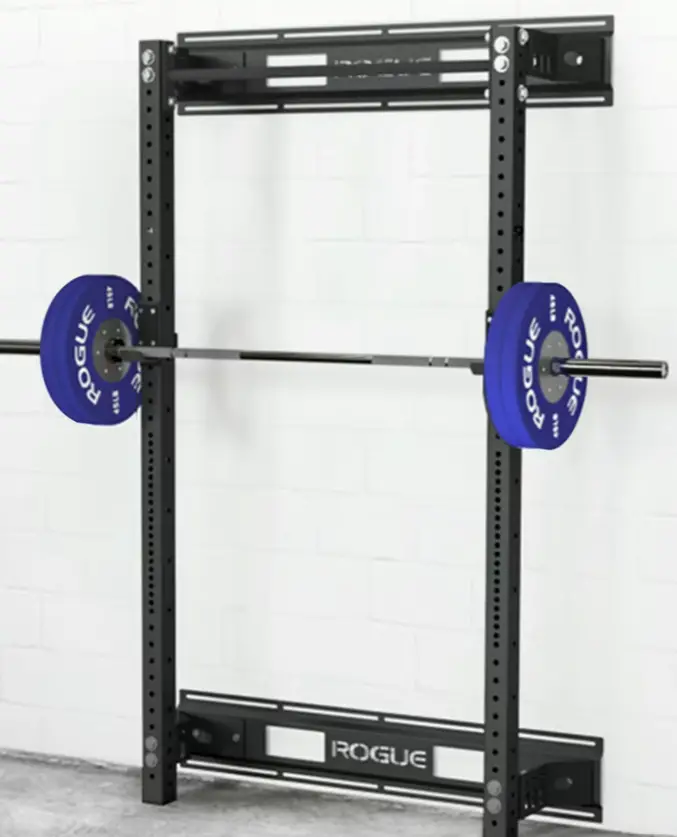 Rogue RML-90Slim Rack Review Spec
| | |
| --- | --- |
| Dimensions | 14″ x 49″ (W) x 43″ (H) |
| Steel Notes | 3×3″ 11-gauge steel |
| Product Weight          |  165 lbs. |
| Price | $380.00 |
| My Rating |  9.5/10 |
An Overview of Rogue RML-90Slim Rack
The Rogue RML-90SLIM Rack is Rogue Fitness's affordable and compact squat rack. It's a deceptively simple rack intended for the budget-conscious and space-constrained, yet it provides the majority of the features and functions of a standard squat stand with a pull-up bar while only sitting 16″ from the wall. It includes Westside Hole Spacing across the bench area, which makes it simple to adjust the height of your j-cups & safety arms.
Features
The rack has exceptional reviews and is reasonably priced. It's a reliable, durable, and affordable squat rack that provides an excellent workout.
Super Compact
The rack can fit almost anywhere. Moreover, it has a small footprint, extending only 15″ from the wall, requiring approximately 8.5 feet of width (barbell clearance) and nearly 2.5-3 feet of clearance from the wall to squat comfortably. It's incredible for expanding training options in initially unusable spaces while taking up the minimal space after installation.
Sub-Par J-Hooks
The materials are extremely durable while allowing for plenty of movement, which is precisely what users want in a J-hook. It increases sturdiness while reducing the risk of damaging the hook's soft rubber surface and the knurling on your barbell while it is in the rack.
Wall-mounted Rack
When the Rogue RML-90 wall-mounted rack isn't used, it can be compressed into little space. The concept is that you require the uprights which are supplied by this.
Stability
A well-designed Rogue RML-90 Slim Rack gives optimum stability with high-quality bracing and supports. The wall-mounting adds stability by enlarging the "footprint" to a huge square. Moreover, it enhances the stability and frequently weight capacity of squat stands.
Read this article next: Best Folding Squat Rack: 3 Options for Your Home Gym
Brand Information
Rogue is a well-known workout equipment manufacturer based in Columbus, Ohio, United States of America. It offers high-quality, low-maintenance workout equipment that can help you achieve and maintain your fitness objectives.
WATCH THIS video before building your FOLDABLE WALL RACK
Benefits and Drawbacks of Rogue RML-90Slim Rack
Benefits
Easy to Use and Lightweight
It's compact and lightweight, with strong fastening fixtures constructed of high-quality steel tubing, and it's incredibly simple to use. The uprights perform identically to the traditional Rogue squat stands but take up even less space and leave nearly no footprint.
Affordable
The Rogue RML-90 rack is a more affordable alternative to the majority of Rogue racks. It's an excellent value if you're inclined to perform your workout efficiently and install it yourself. 
More Space 
The Rogue RML-90 Slim Rack is a squat rack with a small footprint. It's an excellent choice if your room or workout area is small.
Drawbacks 
Requires Solid Wall
This product is fully dependent on the wall fixture. As a result, if the walls are not strong enough to support their weight, you may encounter difficulties.
Lack of Safety Potential
The Rogue RML-90Slim Rack does not include safety bars; you'll need to support it with a deadlift platform or matting and bumper plates.
Final Verdict / Conclusion
The Rogue RML-90SLIM Rack is the most affordable squat rack. It's an extremely simple, cost-effective, space-constraining squat rack, providing the majority of the functionality of a regular squat stand with a pull-up bar. It's the best piece of workout equipment you can have at home or anywhere else because it gives an ideal workout that will assist you in reaching your fitness goals.